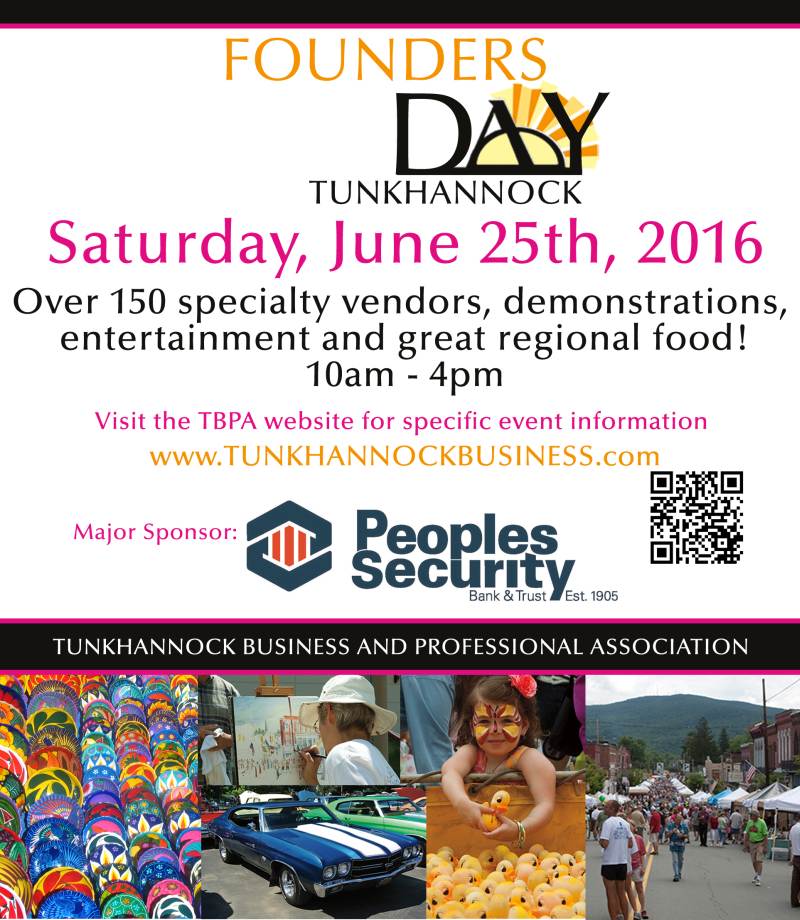 The tradition of Tunkhannock's Founder's Day pulls together activities that both observe long-established service and also celebrates new activities. The annual event, held Saturday, June 25; includes festivities that celebrate the over 100 years anniversary of an area business and also adds entertainment, music, over 150 vendors along with a greater assortment of food.

The celebration takes on a community atmosphere as more organizations become part of the outdoor event. This year, the Wyoming County Cultural Center, in partnership with the Endless Mountains Visitors Bureau, the PA Route 6 Alliance and the Wyoming County Historical Society is serving as the stage for the new Historic Tunkhannock Walking Tour.

In addition to the over 150 vendors that are participating this year, visitors to Tunkhannock can take part in Gay's True Value 103rd Anniversary celebration, enjoy the unique historical displays at both the Historical Society and the Dietrich Theater, car shows at both Sherwood Chevrolet and Gateway Ford, take a tour of "Wonderland" in the gardens of Ebb's Landscaping and Candy Jar. Then top the evening off with Theater in the Park at Riverside Park, relates Nancy Parlo, director for the Tunkhannock Business and Professional Association that is organizing the annual event.
Peoples Security Bank is returning at the presenting sponsor again this year. The festival begins at 10 a.m. and goes until 4 p.m.

Tioga Street will be closed to traffic from Warren Street to McCord Street, allowing visitors better access to the car shows that are being held both at Sherwood Chevrolet, who is hosting their classic car show and Gateway Ford, who will be displaying Model A vehicles. To reduce the amount of traffic coming into Tunkhannock, there are two shuttle and parking areas. Traffic that is going through town will be diverted off Tioga Street onto McCord and away from Tioga Street.
A record number of vendors will be offering a unique variety of metal crafts, art, fabric crafts, woodworking, jewelry, home décor, photography, and other unique trades and professions. Several non-profit and service groups are also taking advantage of the large number of people expected to provide information.

The office for the Wyoming County Press Examiner, on Tioga Street, is serving as a welcome center where visitors can stop for information and a copy of the Founder's Day map.
Volunteers from Triton Hose and the Ambulance Association will be on hand with a variety of rescue equipment. Medical personnel will also be available to answer any questions about the organizations.

Gay's True Value on Tioga Street, will be celebrating their 103rd anniversary throughout the day with demonstrations and contests. Activities and demonstrations include spinning, metal working, in addition to special giveaways, a guessing jar for prizes, a $100 bill giveaway and tentative plans are in the works for a pet costume contest. (This is what was done last year, have been trying to get on touch with Doug or Dan)

Taylor Rental BX3 will be providing children's entertainment in the First National Bank parking lot. Additionally, the Proctor and Gamble product truck will be located in the bank parking lot
Make sure you stop by the Entertainment Area in front of People's Security Bank on Tioga Street. The Wyoming County Players has announced a full schedule with everything from twirlers to barbershoppers along with great comedy, music and audience participation.

The Wyoming County United Way will hold its annual Duck Derby. With several thousand dollars of prizes, the drawing is scheduled for 3 p.m. at the Duck Pond. Artists from the Endless Mountains Council of the Arts will be exhibiting paintings, offering many for sale.

Additional entertainment will include live music both at Kitson Galleries and at the top of Tioga Street.

The Wyoming County Historical Society will participate in the annual celebration with tours of the genealogical library and museum. Since 1976, the Wyoming County Historical Society has worked diligently in the preservation of records, both vital and historical, pertaining to the heritage of individuals who have lived in and around Wyoming County. The historical society is located at the corner of Bridge and Harrison Streets.

Food vendors, who will be located near Nativity Church include Simply Savory, BBQ; Mister Rick's Pretzels, soft pretzels, pretzel sandwiches and beverages; Nices Concessions, potato pancakes, halushki, chili and hot dogs, J & M Concession with cheese steak, chicken cheese steak, fresh fruit, burgers, Matt Ryan concessions with chicken speedies, cheese fries and funnel cakes, Loch's Maple Syrup and Country Girl Kettle Corn and lemonade. Several new food vendors will be located along Warren street near the Boro Building including the Cupcake Camper featuring a variety of gourmet cupcakes.

This year, there are two shuttle bus locations, one located in the School District parking lot and the other behind Ace Robbins Gas and Propane at the United Methodist Church "The Gathering" field. There will be directional signage for each location.

The festivities continue into the evening with a free performance of Shakespeare in the Park at Tunkhannock's Riverside Park at 7 pm. All are invited to bring lawn chairs or a blanket to enjoy theater under the stars.